Name:
Chessie
Nickname(s)?:
None
Age:
20, soon to be 21 (yay!)
Occupation:
Retail
Strengths:
Intelligence, logical, convincing.
Weaknesses:
Addictive, boastful.
3 Favorite Books:
All the Harry Potter books, Catcher in the Rye - JD Salinger, Rules of Attraction - Bret Easton Ellis
3 Favorite Movies:
Cabin Fever, House of 1000 Corpses, Texas Chainsaw Massacre.
3 Favorite Musicians/Bands:
Cursive, Against Me!, The Beatles
3 Heroes:
Eli Roth, Tom Savini, Rob Zombie
Describe yourself in 3 Words:
Unusual, funny, silly.
Introvert or Extrovert?:
It depends on the situation. When Im at work and I have to talk to people, I do very well, but if Im at a party or have to meet people for the first time, Im shy.
Hard Worker or Layabout (or somewhere in between)?:
Eh, somwhere in between. When Im at work I get the job done, but at home, I like to just relax.
Are you the leader type?:
For sure. I know what has to be done, and I can take charge to get it done.
Are you adept at raising others' spirits?:
Yes, I can be silly and make others laugh when they need it.
Do you consider yourself popular?:
I can make friends very easily, but I only keep a few close friends, so not really.
People who first meet you probably think you are:
Kind of a bitch, but I dont mean to come off that way, I just try to fit in.
How do you handle high-pressure situations?:
Very well, I work best under pressure.
Are you self-motivated, or do you rely on the encouragement of others?:
Both, sometimes I need a little push.
Do you work through unpleasant situations for your own satisfaction, or to prove yourself to others?:
Once again, both. I like the way I feel after I solve a problem, but I also like to get recognition from it.
:: DEGRASSI: THE NEXT GENERATION RELATED QUESTIONS ::
Favorite Degrassi character? Why?:
I like Craig, because I think he is a hottie hot hot, and when he sings, it makes me melt a little.
Favorite Episode/Part/Scene? Why?
I really cant answer this question. I have seen every episode of Degrassi, and every episode has their own drama filled moment, so I love it all. If I could do nothing but watch Degrassi, I would probably do it, haha.
Which character do you most relate to, personally? Why?:
Probably Ellie, because she seems pretty misunderstood, and I know where she is coming from with that.
Do you have a favorite Degrassi quote? Please share:
Well, the one that makes me laugh a lot is when Tobey and JT are buying condoms and JT says that he wished they had bacon flavored...hahaha. I also giggle at the whole "Look at that stack of dimes!" moment.
I you could do one thing over spring break with your Degrassi pals, what would it be? Dream big!:
Probably travel around the world, that would be radical.
When you graduate, the first thing you're going to do is:
Well, Ive already graduated, and I took a train to Chicago for a week to shop, go to museums, and just chill.
Please Post at Least One Clear Picture of Yourself, or Give us a Description of How You Look: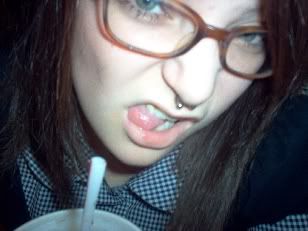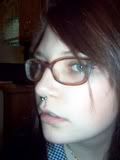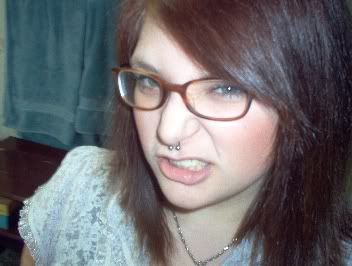 Current Mood:
tired